About

FT&T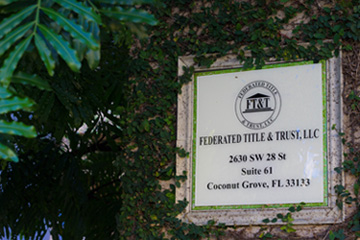 Federated Title & Trust, LLC, a Florida Title Company, is your source for title and escrow services in Florida. Located in Coconut Grove, since opening, we provide courteous professional service, excellent communication, speedy service and timely disbursement. Flexibility is paramount to our success and to your satisfaction as a member of our family of satisfied clients. Our experienced settlement officers, and in house attorney with over 17 years of Real Estate and Title experience, will travel anywhere in the Florida, day or night, to perform your closing. Our staff is committed to providing our customers a level of service that is unparalleled in the title industry. If your title company has not made you feel like a priority, we urge you to call us today!

At Federated Title & Trust, LLC, we provide quality title insurance services, benefiting buyers|sellers|owners, mortgage brokers, realtors, lenders and banks throughout Florida. Our clients depend on us because they recognize that we possess the technical expertise to get the job done on time with unmatched attention to detail.

Our company attorney is a dedicated professional with over 17 years of experience in Residential and Commercial Real Estate Closings. Our priority is superior customer service in Florida. Everyone at Federated Title & Trust, LLC is devoted to being accessible, courteous, and responsive to your individual requirements.

Our mission is clear and our motto is simple: "We don't leave until the job is done". For more information, Call 305-430-6733 and speak with one of our staff.